SUMMARY

The Rio Sucio prospect is made up of two mining concession applications for the exploration and exploitation of gold, platinum, copper, zinc, molybdenum and all other exploitable minerals. The concessions cover an area of approximately 93 km2 completely within the jurisdiction of Rio Sucio, Department of Choco, Colombia.

The concessions are located directly North of Sunward Resource Ltd.'s Mande Norte project. Sunward's project area is widely considered to be one of the world's best undrilled copper porphyry projects.

Although very little exploration has been done North of Sunward's project, this area is considered to be highly prospective. Continental Gold Ltd., AngloGold Ashanti Limited, Sunward Resources Ltd., and Cia. Minera El Zancudo S. A. hold the majority of the mining titles and/or mining applications in the area.

PROPERTY LOCATION

The project is located in the Department of Choco, not far from the Eastern border with the Department of Antioquia. The prospect area is approximately 170 km to the Northwest of the city of Medellin.

The prospect area is accessible by helicopter from Mutata, 40 km to the Northeast.

By land, the prospect area can be reached from the city of Medellin by taking the road through Pavarando towards Turbo on the sea to Mutata. From Mutata a seasonal road is now open to Puerto Lleras, located in the heart of the prospect area.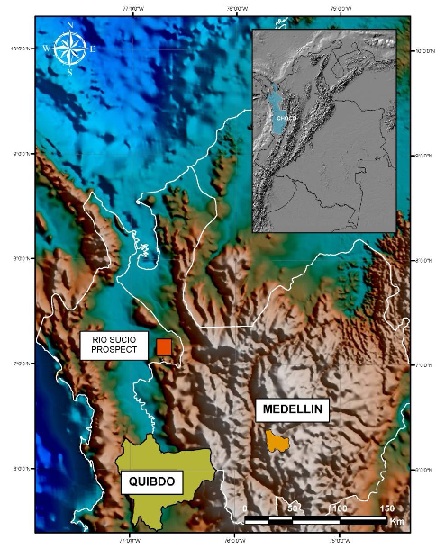 ON TREND WITH MAJOR CU DEPOSITS IN PANAMA
Examples from Panama in the same belt
Cerro Chorcha 135 Mt @ 0.48% Cu
Cerro Colorado 3,730 Mt @ 0.39% Cu
Cobre Panama 272 Mt @ 0.65% Cu
Petaquilla 1,218 Mt @ 0.50% Cu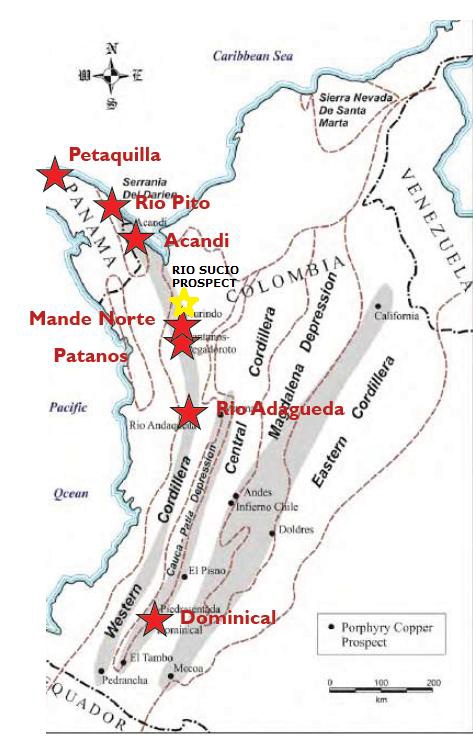 COLOMBIAN WESTERN CORDILLERA CU PORPHYRY PROSPECTS
In 1972 and 1973, the first reporting of porphyrytype deposits in Colombia resulted from the discovery in 1970 of a stream sediment geochemical anomaly at Pantanos-Pegadorcito, during a cooperative program undertaken by INGEOMINAS and the U.S. Geological Survey (Sillitoe
et al., 1982 and Ramirez et al., 1979). Subsequently, most of the other known porphyry
prospects in Colombia were discovered by joint exploration projects carried out by INGEOMINAS and the United Nations (INGEOMINAS Staff, 1977) or by the activities of INGEOMINAS alone.
NEIGHBORING COMPANIES
CONTINENTAL GOLD LTD.
ANGLOGOLD ASHANTI LIMITED
SUNWARD RESOURCES LTD.
MINING CONCESSION APPLICATIONS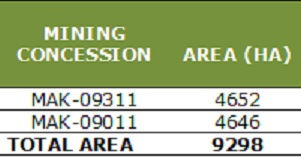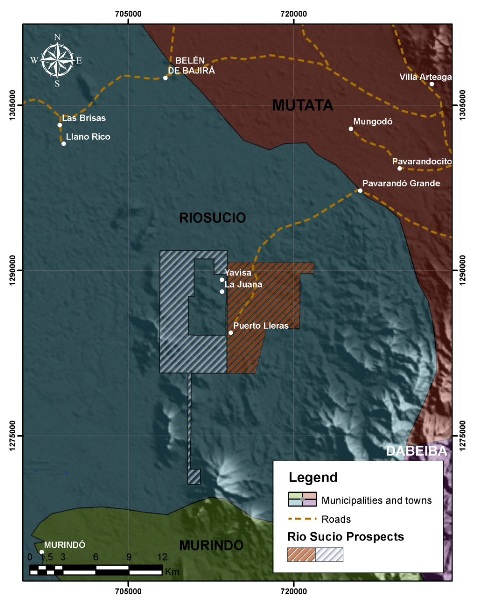 REGIONAL GEOLOGY
The Western Cordillera, which hosts the Rio Sucio prospect, is constructed of submarine volcanic rocks and related sills of tholeiitic basaltic composition, probably overlain by deep-water pelagic and turbiditic sedimentary rocks, of Early to Late Cretaceous age (Nelson, 1957; Barrero, 1979).
Also prominent are tonalitic, dioritic, gabbroic, and Alaskan-type mafic ultramafic intrusives, broadly coeval with the volcanic successions, and a later series of early to late Tertiary batholiths and stocks of broadly tonalitic composition, associated with calc-alkaline volcanic rocks.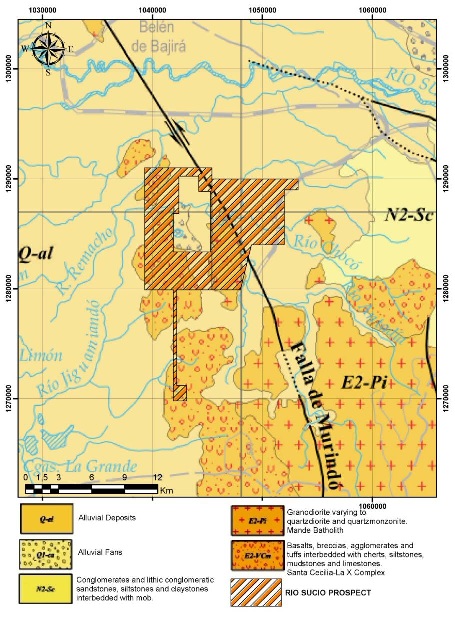 ECONOMIC GEOLOGY
The area directly to the South of the Rio Sucio prospect (now Sunward's Mande Norte project) was mentioned in the October 2008 issue of International Mining, which reported the following:
For centuries, local residents have known of the presence of copper and gold in the low lying hills north of the Murindo River, located in the northeastern corner of the Department of Choco. However, it wasn't until 1975 that INGEOMINAS, under the sponsorship of the United Nations, undertook a formal investigation of the region. A comprehensive program of stream sediment sampling, followed by soil and rock sampling and preliminary mapping was able to delineate extensive areas north of the Murindo River which were high in copper, gold and molybdenum. The delineated areas of these anomalies range in size from one to five km2 in size.
The area is known for very little outcropping; however, in 1993, an earthquake exposed the mineralization in the area. In the mid-1990's Cyprus AMAX initiated an exploration program of the area. A comprehensive program of geochemistry, geophysics and mapping further delineated, expanded and defined the known target areas and found a new zone south of the river, lengthening the string of mineralized zones to 15 km. Soil samples in the anomalies carried from 300 to 4,200 ppm Cu and up to 700 ppm Mo. Surface rock samples in two areas exceeded 1% Cu, up to 700 ppm Mo and 2.5 ppm Au, with 37 rock samples from one 800 by 1,400 m area averaging 0.94% Cu and 0.36 ppm Au. The Murindo copper prospects lie at 100 to 400m on the eastern slopes of a small group of mountains in northeastern Choco and northwestern Antioquia. They are mostly north of the town of Murindo, 165 km northwest of Medellin.
The copper deposits lie on the western margin of the Tertiary Age Mande Batholith and west of the Murindo fault. Most of the mineralization seen to date occurs within quartz-diorites intruded into Cretaceous and Jurassic clastic and volcanic rocks, but hydrothermal alteration, intense weathering heavy vegetation have prevented a complete unraveling of geologic relationships. The highest copper-molybdenum grades are found in zones of low-sulphide, potassic alteration where chalcopyrite and bornite predominate. High gold values are associated with quartz-magnetite veinlets, also in the potassic zone. Broad areas of phyllic alteration have been mapped, containing pyrite, and chalcopyrite as the principal sulphide species, with an unknown potential for supergene enrichment.
* THE UNITED NATIONS SPONSORED REPORT REFERENCED ABOVE CAN BE FOUND IN THE INGEOMINAS LIBRARY (MEDELLIN REGIONAL OFFICE)
CONCLUSION
Based upon the geology and publically available information, we believe that this prospect has great potential. We invite serious and prospective purchasers or joint venture partners to contact us in order to receive more information. The terms to purchase or earn-in on this prospect are flexible and negotiable. We look forward to hearing from you.
Thank you.
LatAm Investments Ltd.
lataminvestmentsltd@yahoo.com
DISCLOSURE AND QUALIFIED PERSON STATEMENT
This presentation does not constitute a prospectus or other form of offering document relating to LatAm Investments Ltd. or any of its subsidiary or affiliated companies (the "Company"), and does not constitute an offer or invitation to purchase or subscribe for any securities of the Company or any other company and should not be relied on in connection with a decision to purchase or subscribe for any such securities. This presentation does not constitute a recommendation regarding any decision to sell or purchase securities of the Company or any other company. This presentation is being supplied to you solely for your information and may not be reproduced or distributed to any other person or published, in whole or in part, for any other purpose. No reliance should be placed for any purpose whatsoever on the information contained in this presentation or the completeness or accuracy of such information. No representation or warranty, express or implied, is given by or on behalf of the Company or its shareholders, directors, officers, or employees or any other person as to the accuracy or completeness of the information or opinions contained in this presentation, and no liability is accepted for any such information or opinions (including in the case of negligence, but excluding any liability for fraud).
The technical information about the Company's mineral properties and exploration activities contained in this presentation have been prepared in-house and have not been prepared under the supervision of a "qualified person" within the meaning of National Instrument 43-101.